Home > 07 Jun 2018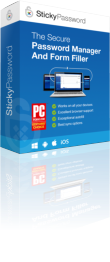 Sticky Password Premium
includes a Premium 1-Year license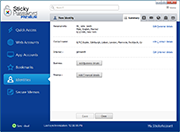 There are now a large number of web sites that require users to login to make use of their services and this can mean having to remember a huge number of usernames and passwords. Sticky Password can help to make your life easier by filling in online login forms for you. Your usernames and password are stored in a protected database, and rather than having to manually enter details by hand, the program can take care of form filling on your behalf.
The passwords you store in the program are protected in a number of ways. The first level of protection is provided by the master password that must be configured during the setup process. You then have the option of using a USB or Bluetooth device as a secondary authentication method - as an added level of security a virtual keyboard can be used for password entry to avoid problems with keylogging software.
There are Sticky Password plugins available for a number of programs including Firefox and Thunderbird, and passwords that you have already stored in various applications can be imported in a few mouse clicks.
This is great time saving tool and avoids the problem of forgotten passwords and the associated password resetting. With protection against keyloggers and phishing web sites, Sticky Password is not only useful, but also fantastic for security.
Today's Price:
FREE
Saving
$29.99
(100%)
How To Get Your Serial Code
Simply login (create an account if you haven't done previously) and click the "get serial code" button. You should be allocated a serial code immediately.
Note that you must activate your Sticky Password Premium license by September 16 2018.
Special Offer: Move up to the Lifetime Edition - save 74%!
We hope you are impressed with Sticky Password. Your license gives you a year-long Premium edition, but you can move across to an unlimited 'lifetime' edition which will never expire or need renewing. Better still, you can upgrade for only £25.99, saving a staggering 74% off the RRP!
To move to the Lifetime edition, simply go to the Sticky Password website.